Anthotyros (sheep & goat RICOTTA)
Creamy, sweet, milky, with LOW FAT and LOW SALT content; this traditional Greek fresh cheese is produced with addition of sheep milk cream into the sheep & goat whey, after the Feta cheese production.

The best Anthotyros ever!
Top it on a salad, insert a slice in a sandwich, make a cheesecake or the famous Cretan "Kaltsounia".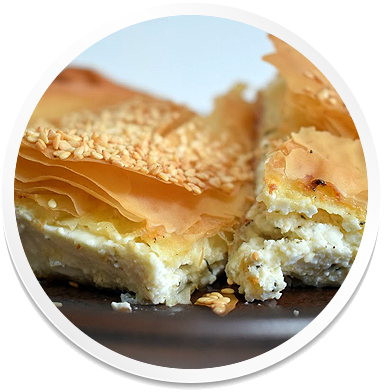 | Nutrition Declaration Average value | per   100g | % R.I.* | Per portion 40g | % R.I.* |
| --- | --- | --- | --- | --- |
| Energy | 819kJ / 197kcal | 10 % | 327 kJ / 79 kcal | 4,0% |
| Fat | 15,0 g | 21 % | 6,0 g | 8,6% |
| - of which saturates | 10,7 g | 53 % | 4,3 g | 21,3% |
| Carbohydrates | 3,5 g | 1 % | 1,4 g | 0,5% |
| - of which sugars | 3,5 g | 4 % | 1,4 g | 1,6% |
| Protein | 12,0 g | 24 % | 4,8 g | 9,6% |
| Salt | 1,0 g | 17 % | 0,4 g | 6,7% |
* Reference Intake of an average adult (8400 kJ / 2000 kcal)