Μanouri PDO Cheese
Manoúri is a traditional Greek cheese with Low Salt content, sweet taste, mild aroma, creamy texture and a compact but smooth consistency thanks to which it's easily sliceable without breaking.
Manouri slices natural or baked, are ideal for the preparation of starters and a variety of hot or cold, sweet or savory desserts.
Its name comes from the Greek word "Manós" meaning "sparse" and it is produced in Greece since antiquity.
Manoúri has been registered as a Protected Designation of Origin product (PDO)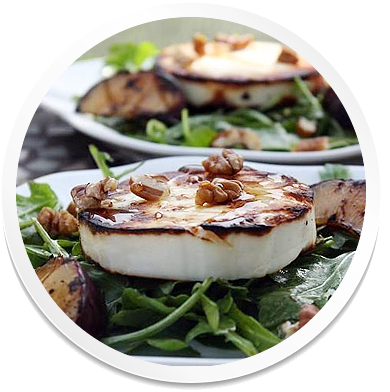 Manouri Vacuum packs
HORECA & FMCG use
From sheep & goat milk whey and full fat cream
Once opened, store in refrigerator and consume within 7 days
Minimum shelf life 6 months


Available sizes:
200 g, cartons 12x
2kg, cartons 4x


Logistic info
Product
Manouri PDO cheese
Vacuum pack
Code
001711
Net weight
2 kg variable
Gross weight
-
1st Pack type
Vacuum film
EAN13 code
29XXXXXXXXXXX
2nd Pack type
Carton x 4
Cartons / EPallet
60
Units / EPallet
240
EUROPALLET 80x120
Net Weight
250
Gross Weight
260
| Nutrition Declaration Average value | per   100g | Per portion 20g | % R.I.* |
| --- | --- | --- | --- |
| Energy | 1.860kJ / 451kcal | 372 kJ / 90 kcal | 4,5% |
| Fat | 45,0 g | 9,0 g | 13,0% |
| -- of which saturates | 31,0 g | 6,0 g | 31,0% |
| Carbohydrates | 1,5 g | 0,3 g | 0,1% |
| --of which sugars | 1,5 g | 0,3 g | 0,3% |
| Protein | 10,0 g | 2,0 g | 4,0% |
| Salt | 1,2 g | 0,24 g | 4,0% |
| Calcium | 109 mg | - | - |
* Reference Intake of an average adult (8400 kJ / 2000 kcal)